Channel overview
Apple Business Chat is used for customer service interactions, scheduling tasks, and even payments. This means that customers interact with brands as easily as they message their friends and family. It's discoverable from Apple Maps, Safari, and Search— or directly embedded into a brand's website.
Accounts
Apple Business Register
Apple Business Chat requires all businesses to register with Apple before rolling out Business Chat. A business will need to submit brand information, including addresses and logos, for Apple's approval. As part of this process, you'll be prompted to select a Messaging Service Provider. Here is where Zendesk's Sunshine Conversations comes into play— as a Messaging Service Provider, we are certified by Apple to provide services and solutions for your Business Chat needs. At the end of the registration process, you'll receive a unique Business Chat ID that will be used to connect to Sunshine Conversations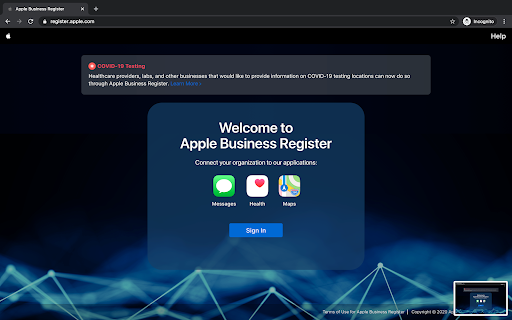 Setting up a Business Chat Account
There are 4 steps to complete your Business Chat Account in the Apple Business Register:
Finally, click Send for review to submit your application to Apple. You'll be able to see the status of your application at the top of your Business Chat Account page.
Business Chat ID
After you've been approved by Apple for Business Chat, you'll be issued a Business Chat ID.
You can find the Business Chat ID by going to your Business Chat Account page and scrolling down to the Messaging Service Provider section.
From there, click on Test your Messaging Service Provider connection.
After that, you'll be directed to a page where you can copy your Business Chat ID.
Capabilities
Apple supports a wide variety of capabilities as seen in the channel capabilities grid. Below is a detailed view of each capability.
Delivery Events
Delivery events allow you to track deliveries of Sunshine Conversations messages to Apple Business Chat by subscribing to the message:delivery:channel webhook. Failures to deliver a message to Apple Business Chat can be detected by subscribing to the message:delivery:failure webhook.
Passthrough API
The passthrough API is a way to send message types for which there is no corresponding Sunshine Conversations type or to leverage channel-specific features not folded into the Sunshine Conversations API (e.g. Apple list or time pickers.) To accomplish this, the developer provides Sunshine Conversations with the raw payload to send to the messaging provider's API, and the Sunshine Conversations platform will "pass it through".
To use the passthrough API, you first craft a valid Sunshine Conversations message of any type, then you specify an additional override parameter for the channels you would like to use passthrough. Under the channel name (in this case abc), the payload field contains the exact structure of a valid Apple Business Chat Service API call to the Message endpoint.
Embed the Apple Business Chat Button
Apple's documentation can be found here.
You will need to do the following:
Add Apple's Business Chat JS (javascript) library to your webpage headers
Add a <div> container to house the button
Customize the banner, fallback support, and button colour to meet your brand's needs
The Business Chat button must contain the following, at minimum:
A class attribute to specify the type of container: banner, phone, or message. For more information, see Business Chat Button Class and Data Attributes.
A data-apple-business-id attribute with the business ID you received when you registered your company with Business Chat.
How to enable the channel
Using the Dashboard
If you don't have a Sunshine Conversations account yet, contact us from the Test your Messaging Service Provider connection in the Business Register to continue the integration process. From that page, you can click on the Connect button to send you to the Sunshine Conversations site.
Log into the Apple Business Register

In a separate tab, log into your Sunshine Conversations Dashboard

Copy your Business Chat ID from the Test your Messaging Service Provider connection page in Apple Business Register

In the Sunshine Conversations Dashboard, select ABC from the list of channel integrations

Next, complete the following steps to connect your ABC integration

Choose a name for this integration so you can find it easily within your Sunshine Conversations app
Paste your Business Chat ID
Click Connect
Security and Business Chat IDs
Since Business Chat IDs are public, Sunshine Conversations has implemented a security measure to ensure your brand's Business Chat ID stays linked to your Sunshine Conversations app. This means that a Business Chat ID cannot be migrated from one app to another through the dashboard or API. If you need to remove your Apple Business Chat integration and migrate it to another app, please contact our team for assistance using the help widget in your dashboard. Our team will release the Business Chat ID on your behalf.
Using the integration API as an MSP
There are 3 different IDs required in the payload:
MSP ID, a unique identifier for an ABC partner registered as a Messaging Service Provider through Apple Business Register
API secret, a key tied to the MSP
Business Chat ID, tied to the brand using ABC
Apple Reading Materials
Business Chat Policies and Best Practices